Les Tissus Utilisés dans la Confection des Hijabs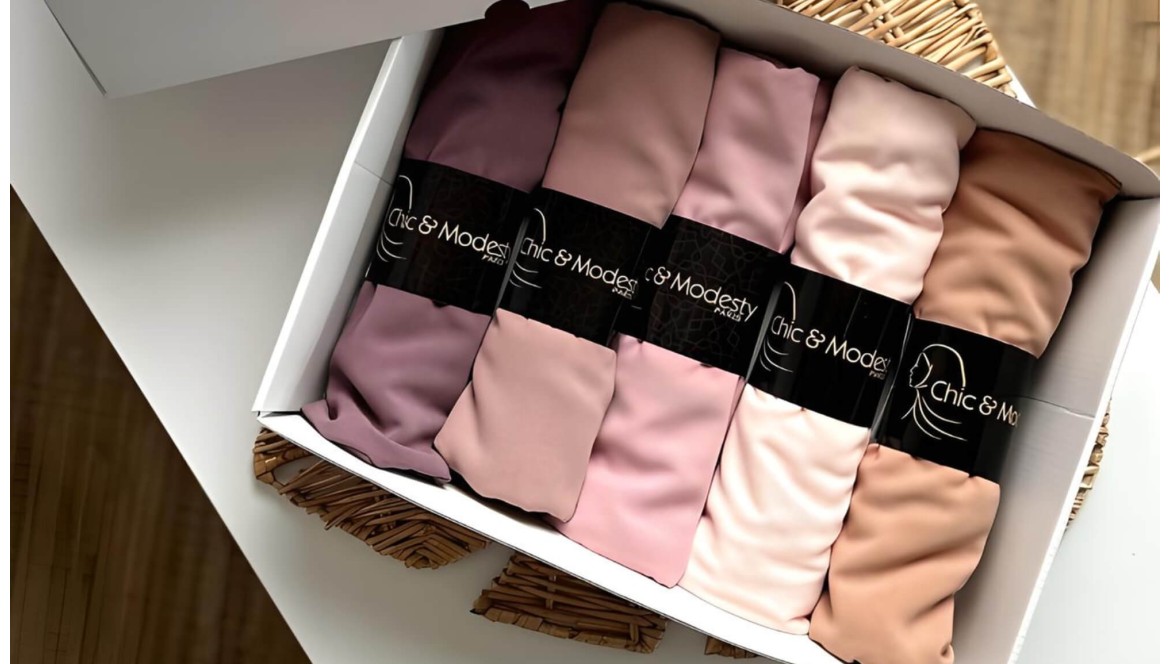 In this article I explain the difference between different fabrics of hijabs
The hijab is a traditional garment worn by many Muslim women around the world. It symbolizes modesty and modesty, and it has become a fashion accessory in its own right. When choosing a hijab, one of the most important aspects to consider is the fabric used to make it. Fabrics vary in texture, comfort and appearance, providing a wide range of options to suit individual preferences. Here is an overview of the different fabrics commonly used in making hijabs.
1. Cotton: Comfort and Breathability
Cotton is one of the most popular fabrics for hijabs. It is appreciated for its softness, breathability and comfort. Cotton hijabs are perfect for everyday wear, especially in hot weather, as they allow the skin to breathe. Cotton is also easy to care for, making it a practical choice.
2. Silk Chiffon: Lightness and Elegance
Chiffon is a light and delicate fabric that adds a touch of elegance to any hijab. It has a soft, fluid texture that creates beautiful drapes. Chiffon is often used for special occasions because of its refined look. However, it may require special care during maintenance.
3. Crepe: Texture and Elasticity
Crepe is a fabric characterized by its pleated texture and elasticity. Crepe hijabs have a unique look and pleasant feel. Due to their texture, they hold in place well and do not slip easily. They are perfect for a casual or formal look.
4. Jersey: Comfort and Extensibility
Jersey is a stretchy fabric that provides exceptional comfort. Jersey hijabs are easy to put on and adjust, making them practical for everyday use. They follow the contours of the face without being too tight, thus offering great freedom of movement.
5. Modal: Softness and Fluidity
Modal is a fabric made from beech cellulose fibers, which gives it exceptional softness and fluidity. Modal hijabs are soft to the touch and offer a fluid drape. They are comfortable and versatile, perfect for many occasions.
7. Medina silk: Softness and elegance
Medina silk is a high quality fabric. It is made of synthetic material which gives it a very pleasant softness and feel. One of the advantages of this hijab is its opacity, except for white of course, always a little transparent, and above all its incredible fluidity. This hijab will bring elegance to your everyday outfits or during festive occasions. Medina silk is the favorite material of veiled women because its material is pleasant to wear and touch.
The Medina silk hijab is a must have in the hijab i wardrobe. It is a light material you can easily attach it as you wish without any worries. This hijab can be worn in all seasons . The Medina silk hijab is an essential. You can create several styles of hijeb with this veil. You can match it with any outfit. It's a hijab that goes with everything and anything, both during a party, ceremony and during your daily days to go to work or school.
7. Linen: Freshness and Durability
Linen is a natural fabric that provides excellent comfort in hot weather. Linen hijabs are breathable and absorb moisture well. Additionally, linen has exceptional durability, which means linen hijabs can last a long time.
Ultimately, choosing the fabric for your hijab depends on your personal preferences, the climate in your area, and the occasion you are wearing it for. Each of these fabrics offers unique benefits in comfort, appearance and style. It is therefore recommended to explore different options to find the hijab that best suits your needs and personal style.
Comments
Leave your comment